Nice work, but I don't think placing patches in a ring-like pattern is a good way to represent the depth of the region. Also, I think boxes (or whatever shape we end up placing patches in) should have a limit on how many patches they have so it doesn't get too cluttered. I'm not saying we should remove the leftover patches either, they could be clumped in a new region. In fact, we could separate regions according to the type of patches they have:
Abyss for the hadal zone and sea vents (tho maybe those could appear on the seafloor too?)

Ocean for epipelagic, mesopelagic, bathypelagic, abyssopelagic and seafloor patches

Shallow ocean they'd have the same type of patches as normal ocean regions but obviously they'd have less depth. Also we may have to make new types of seafloors since they can be at any depth.

Coastal for estuaries and tidepools (and any new biome that is in contact with dry land like rivers or even aquifers).
Biomes like caves and ice shelves (and maybe sea vents) could appear in any region, as long as it makes sense (you won't see ice shelves on a subtropical ocean) and their properties should be coherent with the region they are in (a sea vent located in a shallow ocean (not sure if that's possible) would have a higher light level than one in an abyss).
Back to your concept:
I don't think you should see more patches than the ones your species inhabits and the ones directly adjacent to them, and the same applies to regions. But one thing we could do is this: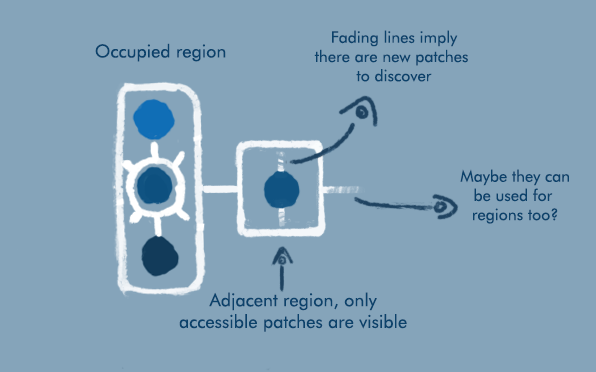 We could show fading lines on unocupied patches and regions, this would imply there are more patches conected to the ones you already see. However, I think showing adjacent patches is a good enough incentive for the player to explore their world. They'll start at the botom of the ocean after all, so they will understand this mecanic once they ascend to the abyss and see that new patches appear on their map.
Btw I really like the mesopelagic icon you made!