So as we've recently discussed on Discord the plan is to make a procedual patch map generator eventually, but for the next release we'll stick to a pre-made map.
I've done a quick sketch of such a map and included as many of tjs ideas from earlier in this thread as possible.
For a detailed explanation of how I ended up with my map open this spoiler:
explanation

I've started from the assumption that the deep ocean is vertically comprised of five biomes: Epipelagic, Mesopelagic, Bathypelagic and Abyssopelagic.
My next assumption was that there would be some climate zones. I didn't want to make too many, so I made three: a warm zone around the equator and one cold zone on each pole.
That means there are already 15 patches without any vents, estuaries etc.
My next step was adding continents and the patches that come with them. I wanted to make two continents so there aren't too many, but more than one. The northern continent was to span over the northern and the equatorial climate zones. The southern continent was to only be surrounded by the southern ocean. This would help in making the continents differ from one another.
My next step was to determine how the shores of the continents should be connected to the oceans. First I tried to make the transitions as smooth as possible like suggested in many of the posts above. After adding some estuaries, tidepools etc, this is what I ended up with:



I felt like this would be too much. Because of this I drastically simplified the shore transitions. I've found that in real life the transition between continental shelf and deep ocean is pretty abrupt anyways(https://en.m.wikipedia.org/wiki/Continental_shelf#/media/File%3AElevation.jpg), so I figured this might be a adequate sacrifice for the sake of simplicity.
This may start to pose a problem when ocean floor biomes get really different from other biomes. If species for example need a surface to latch onto like stentors they are going to have a hard time to move from floor patch to floor patch if they need to move through non-floor patches first. But as of now this shouldn't be a problem. (EDIT: I realized that this potential problem could also be prevented by simply connecting the deep ocean floor to the shelf ocean floor.)
With the simplified shore transitions the map now looks like this: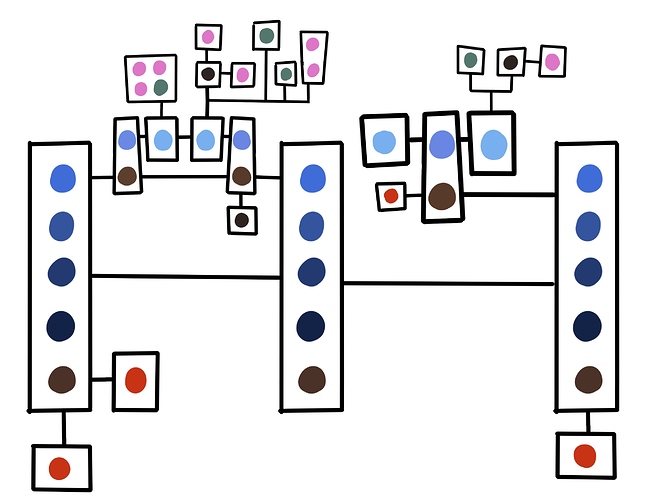 I hope it's more or less clear which biome each color represents. If not please ask!
This is a very simplified representation of what the planet would look like: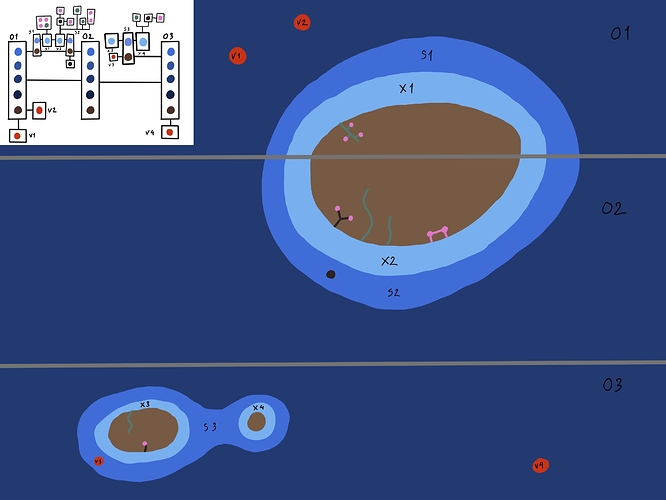 I'm looking forward to hearing your criticisms and seeing your drafts for alternative maps.