First of all this is not another engine change (Switching engines). Instead this topic is about switching from Ogre to something else. It's been a problem for a long time now. It's hard to make graphics with it that aren't basic. Recently I hit some huge issues with it when trying to do changes to our GUI setup. I'm not even the one on the team with the most negative opinion about Ogre.
So it's about time to change it. This is a much more contained change than switching engines, so this should be much more doable. The problem, however is that there aren't many popular plain rendering engines (Godot has a good renderer but it has an entire engine around it). The most promising thing I have found is:

Though, it also has quite a few different parts to it, however I've managed to not use most of the systems, so it is usable as the rendering portion of my engine, allowing it to be used with only changes to the Thrive graphics related parts, instead of redoing everything.
Here's the second last issue I had with Ogre:
https://forums.ogre3d.org/viewtopic.php?f=2&t=95009
and I got no help with that. And then after that I hit a really strange issue deep in the rendering when juggling with multiple rendering layers and that was just way too much for me to try to understand what to do to fix it (the other issue could be worked around). From interacting with the bs::framework developer I got the complete opposite impression and I'm really hopeful that they can offer help with any future issues.
Here's a screenshot of what I got right now with bsf rendering: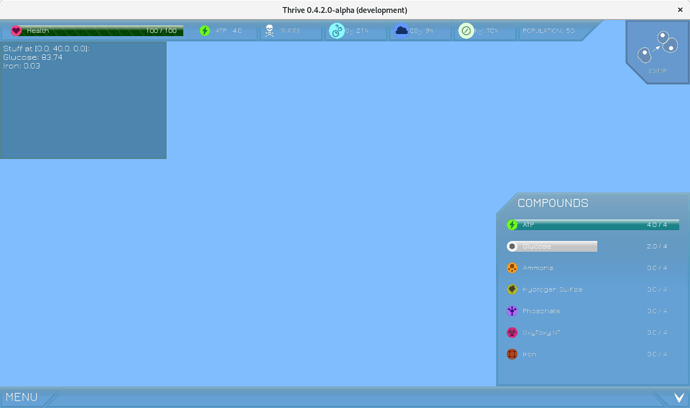 The menus work (but no videos), most of the other graphics things are disabled, though the background
should
be showing, but it isn't…
So there's still a lot of annoying tinkering with the graphics before this is done.